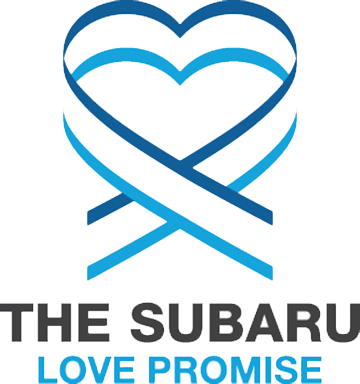 What is the Subaru Love Promise?
Subaru and our retailers believe in making the world a better place and the Subaru Love Promise is our vision of respecting all people. This is our commitment to show love and respect to our customers and to work to make a positive impact in the world.
How is Dulles Motorcars Subaru dedicated locally to the Love Promise?
Our Love Promise can be seen in various partnerships with local charities and non-profits. We're grateful for the opportunity, not only to be a part of our community, but to serve it as well.
Humane Society of Loudoun County
Loudoun Valley High School
Loudoun Valley Cat Coalition
Loudoun Breast Health Network
Love Promise Stories from Dulles Motorcars Subaru
Subaru and Dulles Motorcars Subaru believe in making a positive impact on the communities in which we live and work. We uphold that belief through our Love Promise Community Commitment. Every month, we select inspiring stories from customers and partners from around our area who strive to support our collective commitment and feature them here
Sharing the warmth - LINDA K
Voacc and the Loudoun Homeless service center wants to thank Dulles Subaru for sharing the warmth of the weather resistant blankets for our most vulnerable neighbors. Thank you for being a leader in our community.
---
A Special Day for HART's Dogs at Dulles Subaru - Kim R
Homeless Animals Rescue Team (HART) had the honor to hold a special adoption event at Dulles Subaru on October 22, 2021! The team at Dulles Subaru were incredibly welcoming to our volunteers, and to the dogs, puppies, and kittens that we brought in to show potential adopters. It was a great opportunity for us to spread the word about the work we do at HART. The afternoon was spent meeting so many great people and introducing some of our adoptable animals to them. We thank the Dulles Subaru Team and hope to be able to hold another event there in 2022!
---
Loving Families 'Drive to Rescue' Pets in Need! - Dylan G
Lost Dog and Cat Rescue Foundation (LDCRF) is grateful to Subaru and the ASPCA for believing in us and providing the generous grant support that made our 'Drive to Rescue' virtual adoption event such an enriching experience for rescue pets and adopters alike. We can't thank you enough for lending your actionable aid to our volunteer-driven rescue organization, one that relies upon the backing of donors who share in our love for animals. In partnership with the wonderful team at Dulles Subaru, our dedicated volunteers are honored to have participated in both the Subaru Loves Promise and Make A Dog's Day programs. Our three-day virtual adoption managed to serve 15 dogs and cats, nine of which found their forever homes during the event and most of the others very shortly thereafter. For the entire month of October, LDCRF organized 204 adoptions! We made sure to plan and execute upon our event as true partners and were happy to have Dulles Subaru's active support each step of the way. with event flyers, branded donation boxes, an event page on our website, and heavy social promotions, together we garnered the interest needed to connect adopters with their new companion. A few of the adopters from the event previously rescued from our organization years in the past, and sadly their beloved pet had recently crossed the rainbow bridge. Racoon's adoptive family previously adopted Sammy from LDCRF in 2010. Racoon apparently looked remarkably similar to Sammy, which beckoned excited cheers on the phone upon being notified she was the randomly selected adopter to move forward with adoption counseling. At the meet & greet, their similarities spurred tears of joy during the adoption. Chewy's loving forever home had also recently lost their family dog and were overjoyed to meet their newest addition to the family. They absolutely adore him and shared amazing photos of his transition from the drive back home to days later as he settled into his new forever home. We're proud to build long-lasting relationships with our adopters and are overjoyed to know that the Drive to Rescue pets that benefited from grant funding have already made such a positive impact in the lives of their adoptive families. With the continued partnership of organizations like Subaru and ASPCA, we can strengthen our lifesaving rescue impact even further!
---
Dulles Motorcars Supports Our Veterans! - Liz M
The support provided by Subaru and Dulles Motorcars is invaluable to our organization, HeroHomes. We have built and delivered three homes in Loudoun County in the past three years for deserving, disabled Veterans and are on track to deliver our fourth home right here in Purcellville this year. We pride ourselves in being a local, grassroots organization founded by two guys who grew up in western Loudoun and have a passion for helping Veterans. We are a 100% volunteer organization and I'm proud to say that $.98 of every dollar we collect goes directly into the Veterans home! We are so grateful to the Dulles Subaru team for supporting HeroHomes through their generous donation. It will help us to continue with our mission of helping injured and disabled Veterans rejoin society through the pride of homeownership. On behalf of the entire board, THANK YOU and we look forward to further partnering with Dulles Motorcars in the future!
---
Dulles Motorcars To the Rescue! - Brittany A
Dulles Motorcars has been a blessing for To the Rescue a 501 (c) (3) non-profit animal rescue in Northern Virginia. To The Rescue saves the lives of thousands of cats and dogs per year from high kill shelters and abuse situations. To The Rescue works really hard to save these animals, provide proper vetting and then find forever families! In order to do that To The Rescue incurs a lot of expenses for supplies, vetting and other resources. Dulles Motorcars has graciously helped us with food for these sweet animals, supplies for our foster homes and volunteers, monetary donations from their awesome customers and even great advertisement for adoptions and foster homes. They have gone above and beyond to help To The Rescue and we feel extremely blessed to have their help and support, they are helping us help those without a voice! We would like to give a special shoutout to Shawnette Daly and Giovanni Quintana.
---
Back again! - Jessica A
The hospital was under a good amount of construction as I arrived to meet Shawnette Daly from Dulles in the lobby. It was great to see her smiling face (She delivered the blankets last year as well and it is clear she is passionate about giving back to the community). Once we connected with the hospital leads, we realized it was the same crew from last year – how fun to reconnect! They spoke of the great reaction they get when they deliver the blankets and art kits and how it makes patients and families feel more at home. I spoke of the great honor we have at LLS to bring great partners like Dulles Subaru and Inova Loudon together.As we were leaving, Shawnette remarked "I can't wait to see what it looks like next year when the remodel is finished!". This is a small anecdote, but a powerful one – Shawnette knows that year after year Subaru will support people who are going through one of the darkest moments of their life. It speaks volumes of Subaru and of the people they employ.
---
Dulles Subaru Supports LBHN - Ginger M
THANK YOU, DULLES SUBARU!! 2018 SHARE THE LOVE EVENT The Loudoun Breast Health Network appreciates the continuing support of Dulles Subaru and Subaru of America, Inc. through 2018 Share the Love Event. This year's donation of $7,970.00 will provide funding assistance to our clients through the Pink Assistance Fund and the New Beginnings Program. The LBHN depends upon the generosity and donations of Dulles Subaru and other businesses and community groups to assist us in our mission to assist Loudoun County residents who have been diagnosed with breast cancer. We are proud to include Dulles Subaru as one of our Community Partners in our Annual Report! The Pink Assistance Fund provides funds for Medical Bills/ Medications, Rent/Mortgage Payments, Transportation Costs/Car Payments, Utility Bills, Groceries and other expenses for our clients. In 2018, The Loudoun Breast Health Network provided assistance to 24 clients through this program at a cost of $53,341.58. The New Beginnings Program provides free wigs, mastectomy bras, prostheses, hats and scarves to our clients. In addition, we provide support calls, in-person visits, and information on available community resources. The Loudoun Breast Health Network, an all-volunteer, 501 (c) (3) non-profit organization since June 2007, appreciates the support and the love of Dulles Subaru!!
---
Thanks Dulles Subaru for Sharing Hope & Warmth! - Jenny H
The INOVA Loudoun Radiation Oncology department got a very special delivery on Tuesday, June 29th from Dulles Subaru! This was INOVA Loudoun's first time receiving a blanket donation from Subaru. Shawnette Daly, delivering the blankets on behalf of Subaru, expressed excitement at being able to help patients at a hospital that's basically in their backyard! After Shawnette arrived, we took the blankets up into storage and took a couple photos to celebrate the inaugural event. One of our local LLS patient ambassadors, Laura, was on hand for the delivery and shared with Shawnette how important blankets are to patients. Laura recalled how hospitals get so cold during treatment and how staying warm truly helps keep a positive mindset in a patients cancer journey. Before Shawnette left, the INOVA staff were able to give her a quick tour of the Radiation Oncology department. Shawnette enjoyed seeing the patient artwork in the hallways and their wall of informational brochures - including LLS Patient Access brochures! Lindsay Wright, one of the foundation staff members, shared with Shawnette that donations like the blankets and the customer care cards go very quickly because all of the patients look forward to this gift of hope and light during hard times.
---
Dulles Subaru Loves to Care! - Jenny H
On the afternoon of June 27th, Shawnette Daly from Dulles Subaru delivered 80 blankets, 10 arts and crafts kits, and messages of hope to the INOVA Fair Oaks Infusion Center. As the boxes with the blankets were arranged into a display for photos, LLS Honored Hero and ALL survivor Tyler Crabtree arrived with his grandmother. When he first walked in everyone could tell he was feeling a little shy, but as soon as he received a "Cars" themed balloon, he no longer seemed quite so shy. Tyler was able to chat with both INOVA's Dr. Harnden and Shawnette from Subaru, and excitedly told Shawnette about his plans to visit the zoo that day. Towards the end of their conversation Tyler received another surprise – Shawnette presented Tyler with a blanket, explaining that he could keep it, and his entire face lit up with joy. A once shy Tyler, had simply needed a few things to bring him out of his shell!
---
Subaru Loves Pets-Loudoun Community Cat Coalition - Tom B
Loudoun Community Cat Coalition thanks Dulles Motorcars Subaru for sponsorship of our Trap-Neuter-Return programs in Loudoun County. Your generous donations & participation in our annual Wine & Walk event has helped spay/neuter and provide medical care for over 700 community cats, providing a great benefit to the animals and Loudoun County residents caring for them. This fall, the LCCC helped an elderly lady who started with a few cats to keep her barn and garage free of rodents, but the population got out of control before she knew it. When she called us for help she had about 15 semi-feral cats and 11 kittens. We began trapping, sterilizing, and returning her cats, and treating them for medical issues that commonly affect companion animals when owners can't afford to take them to the vet. Several cats needed antibiotics, one had a severely injured eye removed, and all were treated for fleas & ticks to fend off anemia. Sadly, the kind lady passed away one evening after feeding her cats by the barn. With support from the local community and generous sponsors like Dulles Motorcars Subaru, LCCC was able to care for the cats she so dearly loved until we found new outdoor homes for her barn cats, and with our rescue partners we were able to socialize several cats so they could be adopted as indoor pets. Stories like this illustrate the positive contribution you make as a sponsor, and we truly appreciate your partnership. - The Board of Directors, Loudoun Community Cat Coalition
---